We use a number of implant systems, all carefully selected from the diversity of products available on the market.
The ONE STAGE SURGERY system (implant and dental crown in the same session) is a real system in our office where the patient can leave on the same day the extraction was performed, with an implant and including the provisional crown on the implant.
Surgical guides are another innovation that we use and that helps us position implants and prefigure the exact position of the future teeth from as early as the CT stage.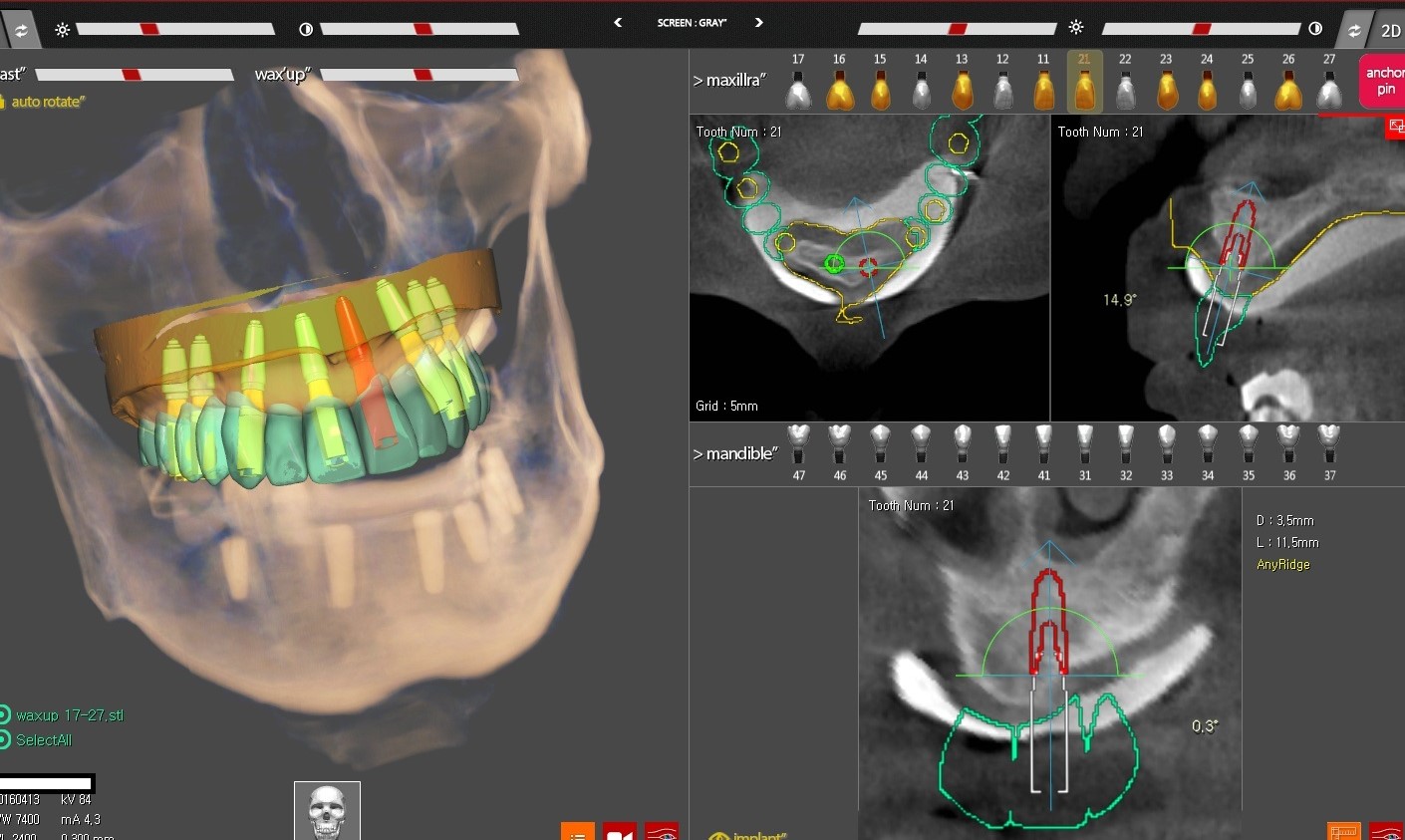 After the examination performed in our clinic, the surgeon takes a set of imprints which will serve as a basis for opaque-base casts;
With these casts on, a 3D scan (CBCT) will be performed in our clinic, after which the casts and the 3D X-ray are sent to the manufacturers of the surgical guides;
Your dentist will devise a plan based on the CBCT, which will outline the ideal position of the implants and of the future teeth, including the shape of the and size of the teeth, the occlusion (bite).
The viewing of the digital treatment plan is followed by the actual manufacture and supply of the surgical guides;
Also in this stage we can also plan a set of temporary crowns that can be fixed to the implants in the same session in which they were integrated; in other words, the patient can leave the clinic with stable and aesthetic teeth on the very same day in which the implants were inserted.
Surgery: the surgeon fixes the surgical guide in the mouth and subsequently positions the implants in the only position allowed by the surgical guide, thus minimizing any errors that may occur during such an intervention.
Used equipment: A-Dec units, physiodispenser, piezotome, centrifuge for PRF membranes obtained from the blood collected from the patient, CBCT (3D X-rays), as well as an operating room specially prepared for this type of surgical interventions and equipped with: air treatment system which produces sterile air, oxygen plant, ceiling-mounted led surgical lamp, sterile water system, a pre- and post- surgery therapy room, all of which enable us to offer our patients the chance to benefit from surgical interventions that are less invasive and pose minimal risks.
For patients who prefer to have an extra psychological comfort, the anesthesiologist present can offer a number of options: intravenous sedation, drug sedation or inhalosedation, as appropriate.