Dental veneers Cluj – Get the perfect smile with dental veneers!
Are you no longer satisfied with your smile? You decided you needed one
change in your life and you want to start by having the perfect smile? If the answer is YES, you have reached exactly where you need to have the dental veneers you dreamed of.
The Ortho Implant Center dental clinic uses the latest and most efficient
appliances for the year 2020 and the veneering techniques meet the highest
standards in the field of dental aesthetics.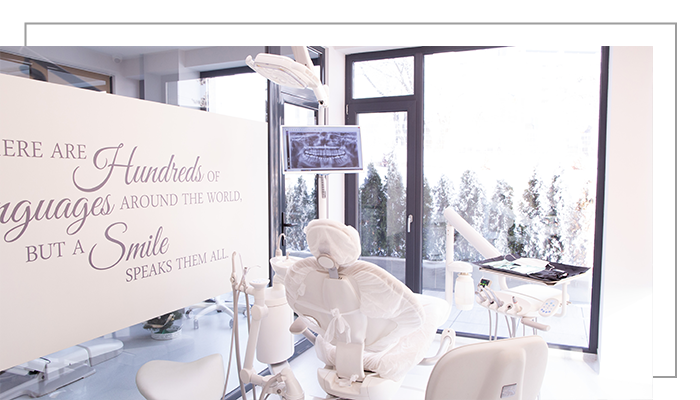 Are you looking to put dental veneers in Cluj?
Then, the Ortho Implant Center Cluj-Napoca dental clinic is the solution. Our specialists in dental prosthetics are ready to offer you the best advice regarding the application of dental veneers in Cluj-Napoca of high quality. The prosthetists at the clinic will explain in detail the steps to follow before starting treatment. Also here you will find out about the duration of the veneer treatment, the costs of veneers depending on the type of material used for veneering, the advantages and disadvantages of applying dental veneers and also here you will find examples of cases of dental veneers made in Ortho Implant Center clinic in Cluj -No time.
How many dental veneers do we put?
Dental veneers do not apply to all teeth.
It is generally applied only on teeth that are seen in a natural smile.
The number of teeth visible in a smile can vary from 2 to 6-8 veneers.
The benefit of restoration with dental veneers in Cluj at the Ortho Implant Center Clinic
Dental veneers, in addition to being aesthetic, are conservative to the remaining dental tissues (remove a thin layer of the tooth).
The veneers, although thin and brittle, are resistant to bending and the veneer tooth assembly is resistant over time due to the adhesive cementation. Another benefit is the stability of the color over time, they do not change color over time.
All these benefits can be found in the Ortho Implant Center clinic where due to the quality of the medical act provided by our specialists you can use treatments with dental veneers made of extremely high quality materials that are used in veneering teeth.
The composition of veneers. What to be made of?
Ceramic veneers (porcelain)
If the teeth show more serious fractures or position changes, then the use of ceramic veneers is indicated.
"Porcelain" ceramic veneers are the most used dental veneers in the Ortho Implant Center dental clinic.
Ceramics is the perfect choice when we want a Hollywood smile, bright and full of confidence because it has a remarkable resistance and an amazing look that surpasses in almost all cases any variant of material.
The realization of the dental ceramic veneers at the Ortho Implant Center dental clinic is performed by computerized CAD-CAM technology, thus offering an aesthetic at the highest level and a precise result, eliminating the human error in the manufacturing process.
Ceramics do not change color over time unlike composite. Ceramic veneers are not indicated for patients with bruxism because they can scratch antagonistic teeth.
The appearance of the initial smile even after the application of the ceramic veneers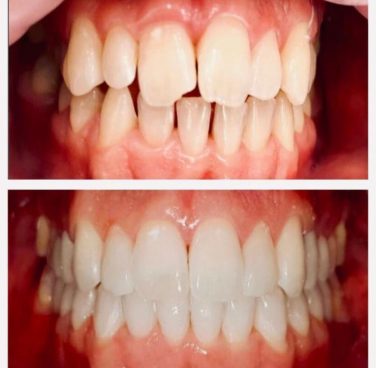 DO CERAMIC FACETS SUIT YOU?
Ceramic veneers are right for you, if:
your teeth have wide gaps between them
shows fractures (teeth are chipped / broken)
the teeth have taken on an unpleasant color
you have one or more unsightly teeth
you prefer an aesthetic and durable material
Even if composite veneers cost less than porcelain veneers, this does not mean that it is not recommended.
On the contrary, composite veneers are recommended in many cases such as teeth that have:
small spaces between them
fracturi de mici dimensiuni
a slightly unpleasant color
when one or more teeth with slightly unsightly shapes or positions
you have an event and you need the veneers to be ready quickly
the disadvantage of composite is that they have a shorter lifespan and change color because the composite is more porous and absorbs
Application of composite veneers in cases of dental abrasion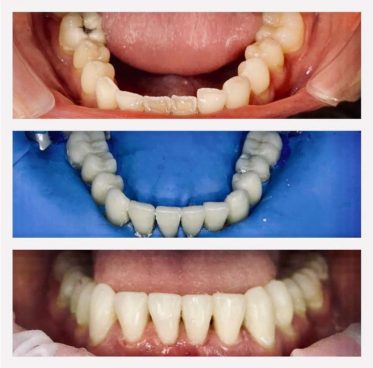 Advantages and disadvantages
The advantages of applying dental veneers in Cluj at the Ortho Implant Center Clinic
The major advantage of the patient who uses veneers in our clinic is that he can get a perfect smile in a very short time due to the fact that the Ortho Implant Center Clinic has prosthetists who can offer you the best solutions when it comes to dental veneers. .
Being an extremely rigorous clinic from the point of view of the medical act as well as of the materials used, the dental veneers applied by us, remain white throughout their wearing period. They do not pigment and do not cover easily with different colored foods being extremely durable and resistant and very friendly with the surrounding tissues such as gums.
General disadvantages of applying dental veneers
There is no obvious disadvantage, we can say that a disadvantage would be that we can not apply in all cases (on all teeth).
Regarding the composite ones, the disadvantage would be that they pigment in time, the composite being a porous material unlike ceramics.
Pros and Cons of applying veneers
PRO
Shape, color or position can be improved (in case of slight malpositions)
Can be used to close spaces (diastemas = grape)
They can be used even in cases where longer teeth are desired
It is done in a short time
Remove a small layer of toothpaste (tooth)
It is performed under local anesthesia, so it DOESN'T HURT
The veneers are strong and durable
Does not stain, does not irritate the gums (due to the glossy surface that does not favor the accumulation of plaque in conditions of favorable hygiene)
AGAINST
Slight sensitivity after the tooth is prepared but which disappears in a few days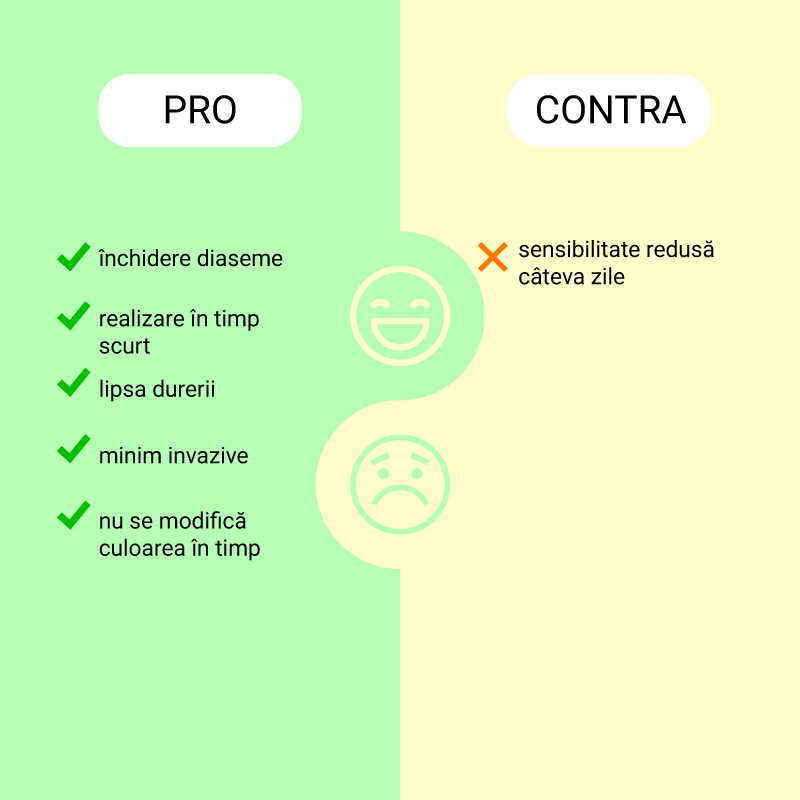 What kind of dental veneers are right for you in 2020?
Dental veneers Ortho Implant Center Cluj NO PREP
Most ceramic, composite veneers can be applied by minimally invasive grinding procedures, ie with minimal sacrifice of dental tissue.
However, there are cases in which ceramic veneers can be cemented directly to the teeth without polishing their enamel.
The veneers that can be applied in this way are called dental veneers without sanding No Prep, ceramic being the only material that can meet this criterion of non-invasiveness.
Applying some veneers No Prep After and Before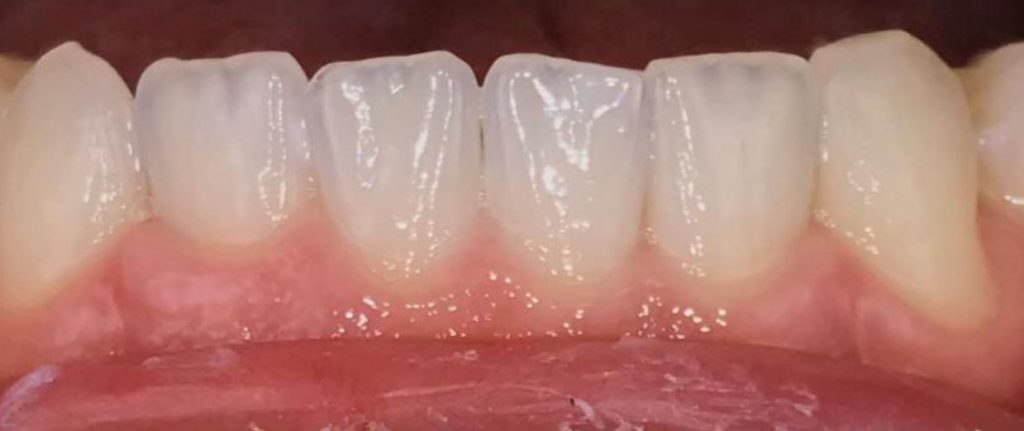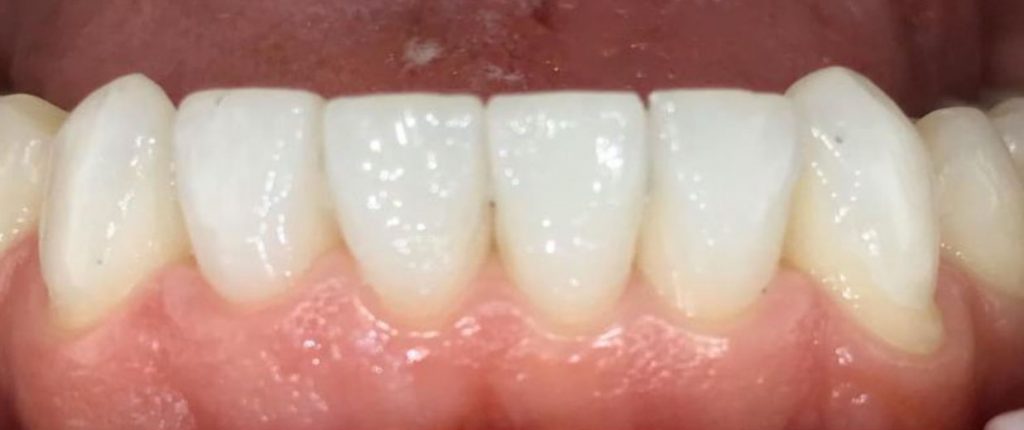 Dental veneers Cluj Ortho Implant Center WITH PREPARATION
Apart from No Prep veneers, all other veneers involve grinding teeth.
This grinding means removing a thin layer of 0.5 mm thick.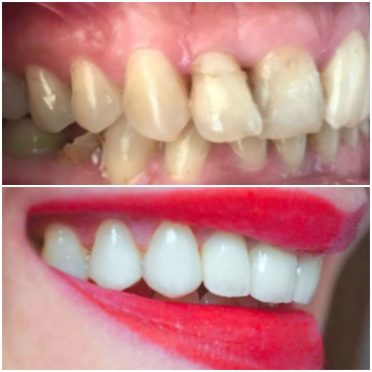 Request a consultation for the application of dental veneers CLUJ
Frequently asked questions and answers
Do dental veneers affect teeth?
Due to the fact that a thin layer is removed from the teeth, they are not affected. The slight sensitivity that may occur after grinding disappears in a few days.
Do my gums recede if I put on dental veneers?
Not! Gingival withdrawal does not occur due to dental veneering. Gingival withdrawal can be a cause of poor hygiene, excessive brushing, smoking, gnashing of teeth or occlusion problems (bite).
Does food enter under the dental veneers?
Food retention around veneers occurs as in the case of natural teeth if we do not have proper hygiene. This means: brushing at least twice a day, mouthwash, floss or interdental brushes and mouthwash.
How long do dental veneers last?
If we have good oral hygiene and follow the routine checks at the dentist at the Ortho Implant Center, the dental veneers will last for many years.
What am I not allowed to eat if I wear dental veneers?
You can eat absolutely anything, with the recommendation that in the first days of accommodation the food be softer. Then you have no food restrictions, but you won't break candy between your teeth either. The color of the veneers is not influenced by coffee, tea or wine, it remains unchanged over time in the case of ceramics.
How much do dental veneers cost?
The price of a dental veneer varies between 600 and 1200 lei depending on the materials and technique used.
Have you dreamed your whole life of the perfect smile?
Now you can get it in record time at the Ortho Implant Center dental clinic!